The implementation of the European Water Framework Directive requires practical instruments for the identification and forecasting of pollutants in watercourses in order to identify the need for action on the basis of specified water protection objectives and to record the effects of measures and interventions. In this context, water quality models can be used efficiently to support water management planning tasks. Increased immission-oriented water management offers a wide range of applications for water quality models. The topic areas of the Water Framework Directive to which water quality simulation can make a contribution are as follows
Status analysis, deficit analysis
Planning and evaluation of measures
Monitoring
Public Relations.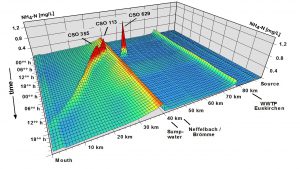 Details